Uncategorized
Bina Perniagaan Berasaskan Edutech Di Startup Weekend Edutech Kuching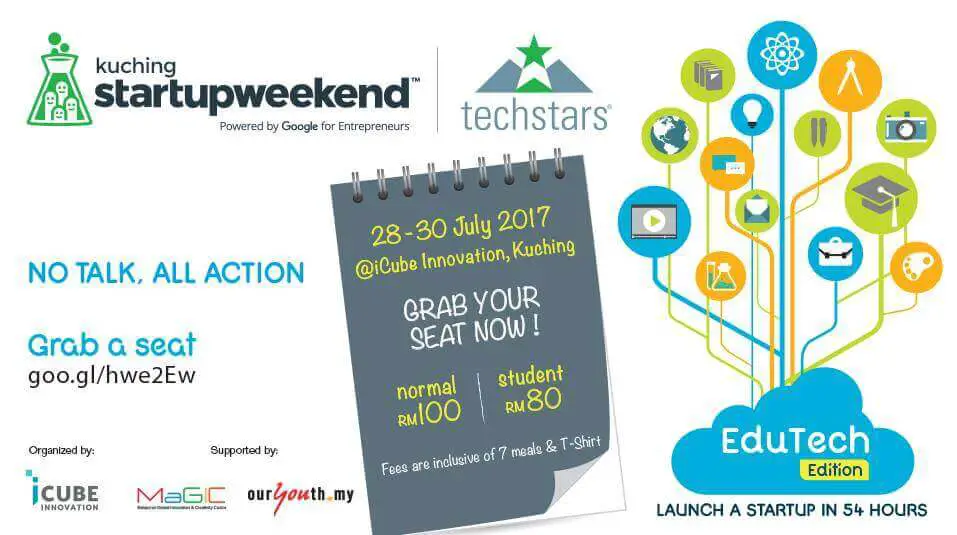 Bina Perniagaan Berasaskan Edutech Di Startup Weekend Edutech Kuching
Bagi anda yang berminat untuk menghasilkan syarikat pemula berasaskan teknologi pendidikan, anda boleh hadir ke Startup Weekend Edutech Kuching yang akan diadakan bermula pada hari Jumaat ini di iCube Innovation, Kuching.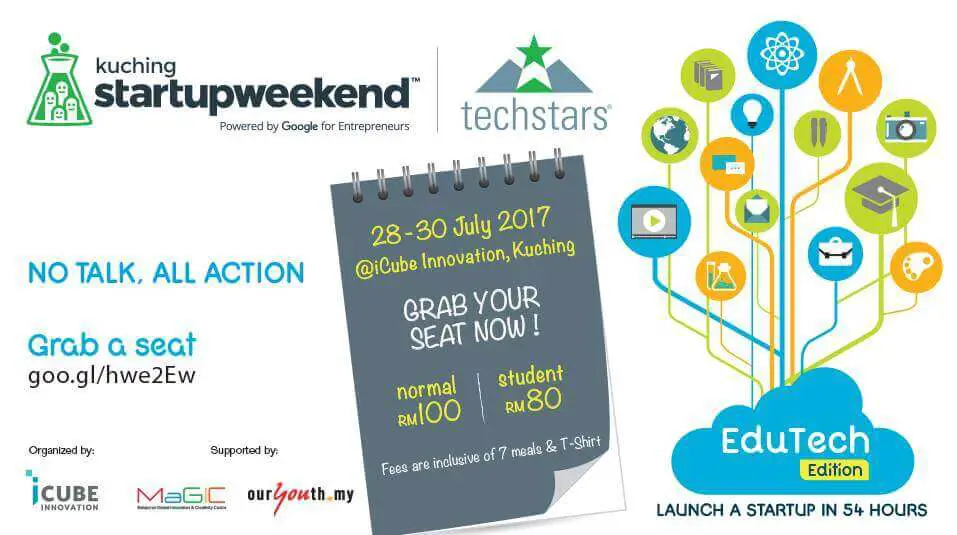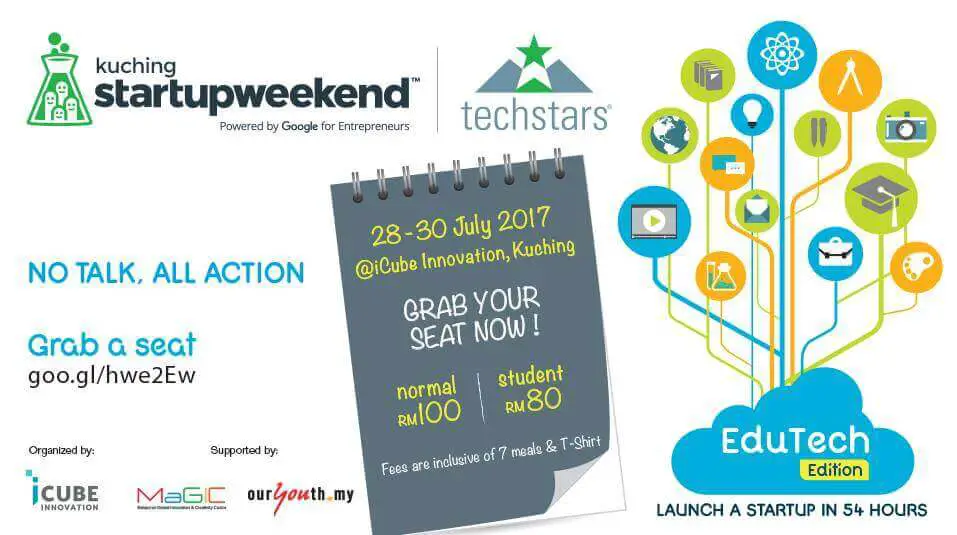 Bagi anda yang ingin mengetahui apa itu Startup Weekend, anda boleh baca 'description' di bawah :
Overview
As the landscape of education continues to evolve, the innovation of tech vastly outpaces it. To this, Startup Weekend EduTech seeks to bring together the best and brightest of Kuching to iCube Innovation on July 28th – 30th. If you're interested in education or technology or EdTech overall, this is the perfect event for you! Over 54 hours with students, educators, industry leaders, and technologists coming together to come up with new solutions to problems being faced firsthand by teachers, administrators, and educational leaders.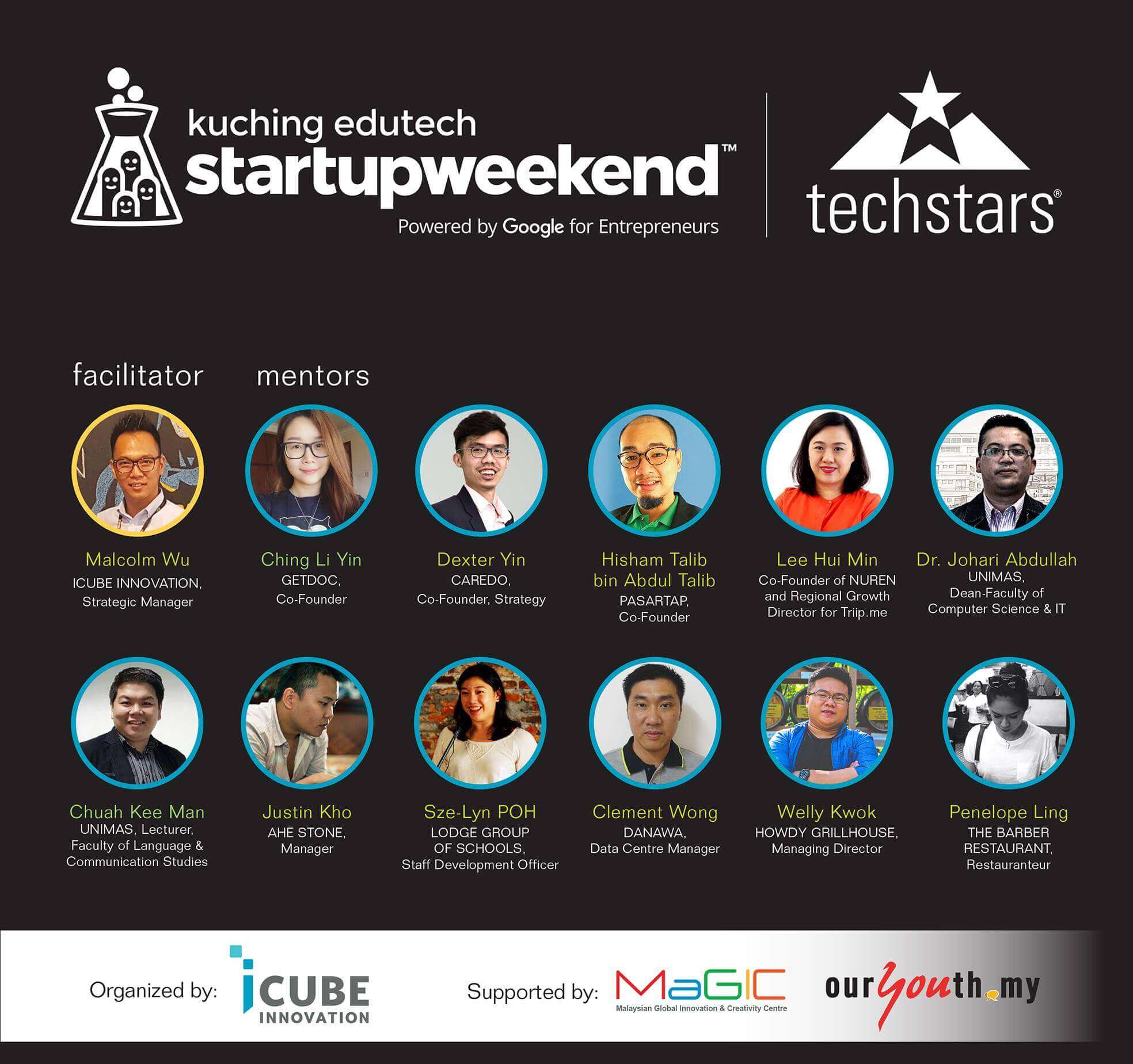 What is Startup Weekend?
Startup Weekend is your chance to learn how to put your idea into action within a matter of days! Whether you are looking to:
get introduced to the world of startups and entrepreneurship
learn the process for going from concept to creation
meet experienced, talented, and passionate entrepreneurs in Kuching
– join or build an all-star team
– make meaningful connections and become part of a global
community
– learn and practice new skills to take back to your job or beef up
your resume
– To get a feel for the event, check out the following videos as a
reference
Who is Startup Weekend For?
It doesn't matter what you do or where you come from, Startup Weekend is designed as an inclusive event for everyone from high students through professionals, and it's a program that brings all sorts of people together including:
– aspiring & experienced entrepreneurs
– developers and other tech-related professionals
– designers of all types
– non-technical talent (i.e. business, sales, finance, legal, etc.)
– students from universities and even high schools
– professionals looking to switch careers or build new skills
and passionate visionaries
Your ticket includes:
– Access to the full weekend-long event
– Opportunity to pitch your idea on Friday night
– Mentoring by all-stars from the Education and EdTech worlds
and the tech startup community
– Meals all weekend
– Collaboration with awesome Education professionals from
throughout Sarawak
– All-star judge's panel lead by startup and Education leaders
– Membership in the Startup Weekend Community (>200K alumni)
– A process for taking any idea from concept to creation in a
matter of days
Do I need to come with an idea?
If you have an idea for a startup, then great! We hope you pitch for the weekend. If you don't have an idea, that's quite alright! Come and spend the weekend, listen to the ideas being pitched, and see if something piques your interest! The weekend is all about learning about the startup ideation process and learning from each other. If you have more questions, check out the Startup Weekend First Timers FAQ : http://startupweekend.org/attendees/faq