6 Laluan Penerbangan Antarabangsa Dari Kuching Yang Diberhentikan
Isu penerbangan terus dari Kuching ke destinasi antarabangsa merupakan isu hangat yang tidak pernah habis dibincangkan. Ramai yang bertanggapan bahawa perlu lebih banyak lagi laluan terus dari Kuching ke destinasi destinasi antarabangsa bagi meningkatkan industri pelancongan di Sarawak.
Namun begitu, ramai yang tidak sedar bahawa terdapat beberapa buah laluan antarabangsa dari dan ke Kuching yang telah diberhentikan atas faktor komersil.
Dalam artikel ini, kami sertakan 6 laluan penerbangan antarabangsa dari Kuching yang diberhentikan.
1.Kuching-Shenzhen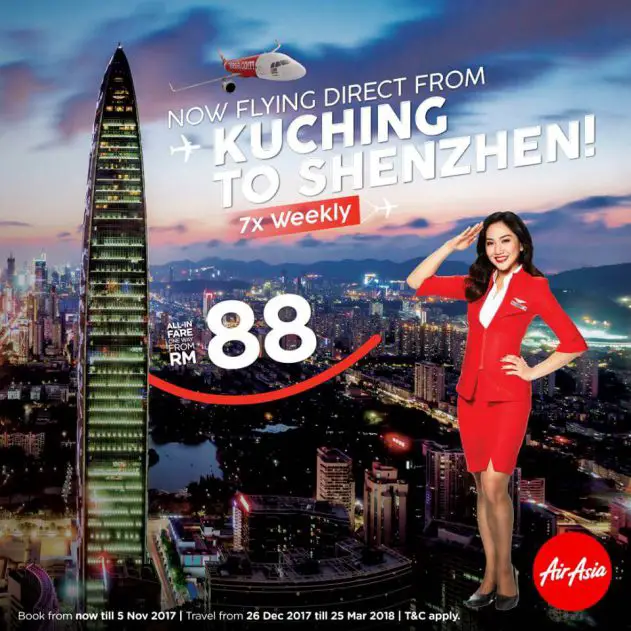 Penerbangan terus dari Kuching ke Shenzhen merupakan laluan antarabangsa terkini yang diberhentikan. Dilaporkan bahawa laluan tersebut akan diberhentikan pada 28 Februari ini.
Rentetan daripada notis tersebut, Setiausaha SUPP Sarawak mengeluarkan kenyataan seperti berikut :
"It is unfortunate for the state not to have her own airline for more direct international flights and to main cities in the world, so it is high time for us to have our own airline like Singapore,"
2.Kuching-Bali
Dipetik dari Utusan Malaysia bertarikh : 08/08/2008
" KUCHING 7 Ogos – Kerajaan negeri meminta syarikat penerbangan tambang murah, AirAsia Bhd. memberi sedikit tempoh kepada mereka menggiatkan promosi bagi tujuan menarik lebih ramai pelancong dari Bali datang ke Sarawak.
Menteri Kewangan Kedua Sarawak, Datuk Seri Wong Soon Koh berkata, kerajaan negeri memerlukan sekurang-kurangnya tempoh enam hingga 12 bulan untuk membawa pelancong dari Bali, Indonesia ke destinasi menarik di negeri ini.
"Beri kita sedikit masa kerana Lembaga Pelancongan Sarawak (STB) akan berada di Jakarta dan Bali bagi tujuan promosi untuk menarik kehadiran pelancong ke negeri ini," katanya."
Laluan Kuching – Bali telah ditamatkan pada Ogos 2008
3.Kuching-Macau
Laluan penerbangan dari Kuching ke Macau dilancarkan pada tahun 2008 dengan 3 kali kekerapan setiap minggu.
Dipetik dari Aviation Bernama :
"In a statement here today, AirAsia said it was currently serving three flights a week to Macau.
"With a strong average load of 80 percent since its inception, the airline is gearing up for the strong travel demands by locals and visitors alike to and from Kuching for the rest of the year with the increased capacity," it said.
Group chief executive officer, Datuk Tony Fernandes, said Kuching was ready to embrace the global low-cost travel as there was so much tourism potential in Sarawak in terms of cultural diversity.
"We hope to grow the hub further with the support of a low-cost terminal in the state," he said.
Walau bagaimanapun laluan tersebut ditamatkan pada bulan Oktober 2008.
4.Kuching-Hong Kong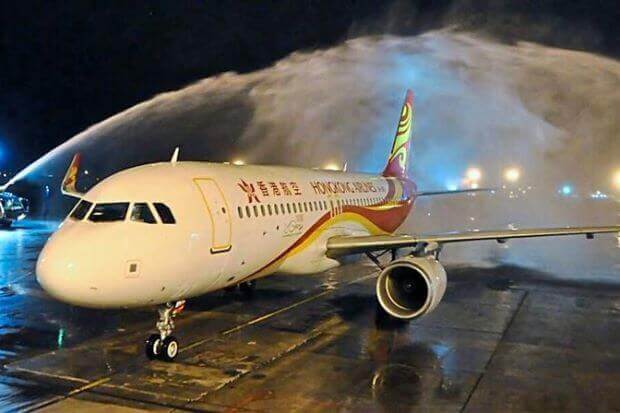 Kuching juga pernah mempunyai laluan terus dari Hong Kong yang dioperasikan oleh Dragon Air.
Laluan tersebut dilancarkan pada 26 April 2016 tetapi ditamatkan pada 25 Februari 2017.
Dipetik dari Borneo Post :
"Minister of Tourism Datuk Amar Abang Johari Tun Openg said the state government was pleased that the new route is finally realised as Sarawak would not have to rely on Kuala Lumpur as a hub after April.
Besides Kuala Lumpur, he said most travellers from Sarawak would also use Singapore as an important hub.
"This direct flight from Hong Kong to Kuching will increase connectivity between Hong Kong and Kuching. It is also to address a lack of connectivity issue in Sarawak.
"Once launched, we will have two very important hubs — Hong Kong and Singapore.
"Tourists or those attending conventions from the United States and Europe can fly to Hong Kong and from there to Kuching. This can be unique to us," he told reporters after witnessing the signing of agreement between Sarawak Tourism Board and Hong Kong Airlines at the latter's headquarters near Hong Kong International Airport here yesterday. "
5. Kuching-Tokyo/Osaka. dan Kuching-Incheon
Mungkin ramai tidak menyedari perkara ini namun pernah ada laluan penerbangan terus ke 2 buah negara ini terus dari Kuching.
Dipetik dari Sarawak Tourism :
"Sarawak Tourism Board (STB) is confident of a bright outlook for 2011. Starting off the New Year with the arrival of a UK based cruise ship carrying more than 200 passengers earlier this month, it today welcomed tourists from North Asia when Malaysia Airlines inaugural flight from Tokyo's Haneda airport & Osaka's Kansai touched down at Kuching International Airport.
The 3 times weekly flight leaves Haneda airport on Monday, Wednesday & Friday, whilst the twice weekly flight leaves Kansai on Tuesdays and Fridays. Flights from Incheon, Korea also commenced earlier on the 16 January and departs every Tuesday, Wednesday, Friday & Saturday. The direct flight will see Malaysia Airlines using its new 737-800 aircraft which can accommodate up to 160 passengers. "
Laluan laluan ini menunjukkan bahawa pernah ada banyak laluan antarabangsa ke Kuching, namun atas faktor komersil, ianya tidak dapat dipertahankan. Secara logiknya, jika kos operasi melebihi pendapatan, bagaimana bagi syarikat penerbangan untuk mempertahankan laluan tersebut?